Opec and Russia boost oil prices after extending production cuts
Nine-month extension until end of 2018 pushes Brent above $64 a barrel
Please use the sharing tools found via the email icon at the top of articles. Copying articles to share with others is a breach of FT.com T&Cs and Copyright Policy. Email licensing@ft.com to buy additional rights. Subscribers may share up to 10 or 20 articles per month using the gift article service.
YESTERDAY Anjli Raval, Oil and Gas Correspondent, in Vienna 1 comments
Opec and countries outside of the oil cartel including Russia agreed on Thursday to keep curbing their production throughout 2018 as they seek to further shrink global stockpiles and prop up prices above $60 a barrel. After days of debate focusing on how long to prolong oil cuts, 24 countries that control 60 per cent of global production pledged to keep 1.8m barrels a day off the market next year. Here are the key takeaways from the meeting.
Market reaction
The nine-month extension of the deal, which was set to expire in March, sent prices up 2.3 per cent on Friday afternoon in London to $64.15 a barrel. Khalid al Falih, Saudi Arabia's energy minister, said he would like to see inventories fall at least another 150m barrels, adding "we will not lift our foot off the pedal".
As global demand enters a period of seasonal weakness, he warned that a meaningful drawdown in excess stockpiles would not happen until the second and third quarter of next year. One Opec delegate said global producers "gave the market what it needs" to prevent any further falls in price.
Oil cuts deal to be extended until end of 2018
Play video
Russia-Saudi alliance
The renewed agreement signals the Russia-Saudi oil alliance, sealed a year ago with the backing of the highest authorities in both countries, is strong enough to withstand disagreements. In their marriage of convenience, for economic and political reasons, compromises have to be made to protect interests back home and ensure market stability.
So, Saudi Arabia got the backing for an extension for all of 2018 in a move that aimed to support prices. The kingdom is enacting widescale social reforms and is overhauling its economy, which includes the listing of state energy giant Saudi Aramco. In return, the language in the final communiqué suggests the deal can be reassessed in June, which placates Russia. The country's oil producers have been lobbying energy minister Alexander Novak against a long extension of cuts as concerns swirl about over-tightening the market and the impact of higher prices on supply, particularly from US rivals.
US shale factor
Although the deal is a bold statement of co-operation, testing times lie ahead as it is unclear how countries can keep prices high without bringing too much US shale oil supply online.
US producers have benefited from producer cuts and analysts at JBC Energy say they are likely to do so again as prices rise. "Each additional dollar is likely to lead to upside potential for the US shale pool," they say. As ministers gathered in Vienna this week, data from the US government showed that oil production rose 3 per cent in September to almost 9.5m b/d.
Although Saudi Arabia does not believe shale supply alone can meet robust oil demand, which is set to grow by 1.5m b/d this year and next, others are unsure. Emmanuel Kachikwu, Nigeria's representative to Opec, said ministers were still waiting to see how US shale performs with prices now firmly above $60 a barrel. A change in tack could come "if we find that US shale producers are taking advantage".
Sticking to pledges
Compliance among producers with the cuts has been strong in 2017 and analysts have said that supply from Opec countries such as Venezuela, Angola and Algeria could decline further next year because of domestic issues. Still, a longer duration of cuts has prompted anxiety among delegates and oil watchers about some countries reneging on promises and pumping more than their targets.
Saudi Arabia's Mr Falih said he had made himself the head of the group's compliance monitoring committee to ensure "everybody stays the course" and even suggested the kingdom itself could enact deeper cuts.
Meanwhile, Libya and Nigeria — conflict-ridden countries that have been exempt from the cuts deal — have said they will sustain production around 2017 levels. Martijn Rats at Morgan Stanley said: "It is a positive step forward as it reduces the risk of upside surprises to production from those countries."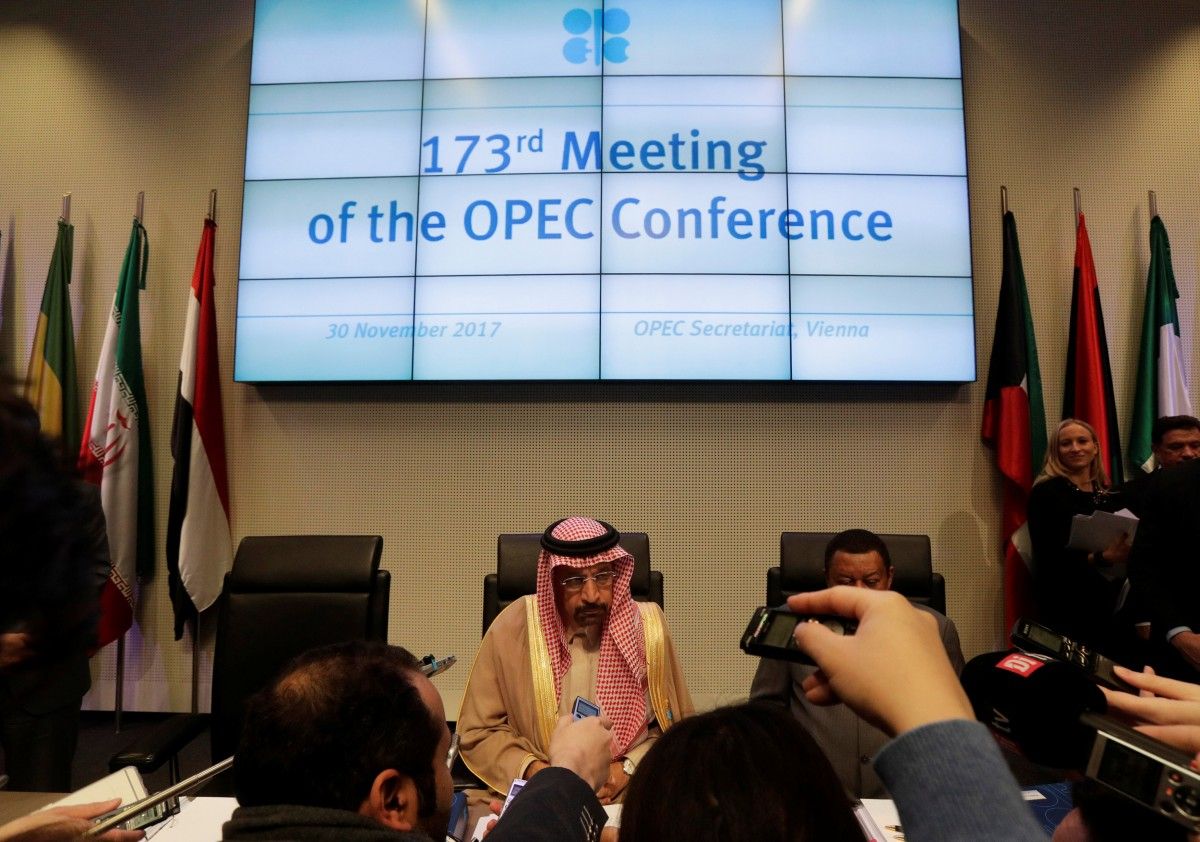 Exiting the cuts
Olivier Jakob at consultancy Petromatrix said the option to take another look at the deal in June "leaves a question mark about the second half [of 2018] and about the commitment of Russian oil companies". For now, despite Russian calls for guidance on an exit strategy from the cuts, a way out is not clear. Saudi Arabia and its allies have been wary about formally discussing a wind down of the programme when it believes the job is not yet finished, calling it "premature".
Yet in private conversations both sides emphasise that an abrupt rise in production is unlikely to follow as they do not want to "shock" the market. This could mean some form of co-operation in perpetuity, as suggested by ministers this week, who have spoken about institutionalising a framework of collaboration between Opec and non-Opec countries.
COURTESY BY: https://www.ft.com